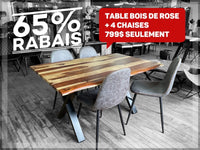 Dining table Norü
Our Noru dining table is made of durable and elegant acacia wood. Its natural finish and black metal legs in X or U (your choice) give it a contemporary look to fit perfectly into your decor. Its exceptional robustness and quality guarantee long durability.
Magazines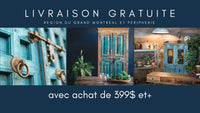 Free delivery !
Get Free delivery with a minimum purchase of $399 and more (before taxes), in the Greater Montreal area and its outskirts.
Learn more
All of our TV cabinets are on clearance!
TODAY ONLY!
Additional 10% OFF ONLINE ONLY. No code required.
TAKE ADVANTAGE OF THIS PROMOTION
• Money back guaranteed if you change your mind before delivery.
Shop Now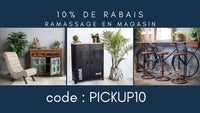 Dining tables best price guaranteed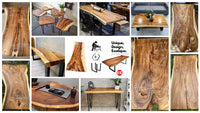 Your ideas, your project, our experience
Suar wood slabs from Thailand for all your projects, counters, consoles, beds, dining tables, living room table, stair tread etc.
Magazines
Choose your Slab and your legs, we'll take care of the rest!
Your comments on Google
I made a project for my dining room, the choice and the prices are incredible. A real Ali Baba's cave! A great discovery.

Leonard Schue
Best place for beautiful furniture at very affordable prices! The service is great! We always find more than what we were looking for at the start.

Félix Verville
Exceptional service, furniture of incredible quality and finish! We just bought a table with a bench there and we can't wait to go back! Must see!

Jean-Philippe Bergeron
Great product and service after sales. Alex the owner is fabulous to deal with. They have the best Suar tables in Canada. I have done lots of research and they are top notch company.

Guy Charbonneau
Very good choice for furniture. I walked around the dining table tops and was pleasantly surprised. The service is very good

Yan Blais
Very good service, impeccable order tracking. In short, courteous, honest and trustworthy service. I strongly recommend dealing with them, they are the best I tell you! (I who have dealt with the competition...)

Mohamed Jihed Khikhia
Super well received by séraphine and her team! Very nice shop and impeccable service! I highly recommend Exotik furniture!

BERTHALON JEREMY
Very good experience, I am very satisfied with my purchase. Product quality and service are really good. I highly recommend this store.

Keila Beltrão
Excellent customer service
Even more after-sales service
Exceptional!!
Thank you a satisfied customer
I'm sending you my daughter

Linda Methot
Location
Our shop
8785 Park Ave, Montreal, Quebec H2N 1Y7
Monday to Friday, 9 a.m. to 5 p.m.
Saturday, 10 a.m. to 5 p.m.
Sunday, 12 p.m. to 5 p.m.